This review is only of the entry for Vittoria Colonna.
Millington begins tracing Vittoria's ancestry on her mother's side: Agnese (or Agnesina) di Montefeltro, daughter of Battista Sforza, Duchess of Urbino, famous humanist, poet and the second wife of Federico da Montefeltro, one of the largest contributors to the arts and literature. The court of Urbino became the centre of literature and was often frequented by illustrious men such as Baldassare Castiglione, Emperor Charles V, Baldassare Castiglione, Cardinal Reginald Pole, and Cardinal Pietro Bembo.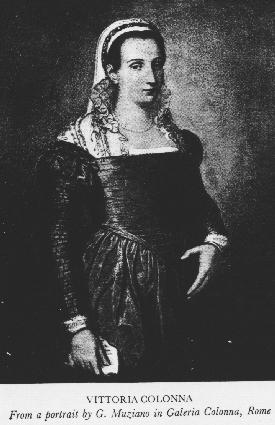 The short biography contains many of her poems, sonnets (or parts of them), but sources for the statements made by Millington are not given. This makes it less useful for academic purposes, but it is really not surprising. For one, this entire book was clearly written for a lay audience. Moreover, nineteenth-century historians (for lack of a better word) hardly ever cited their sources. The writer also falls victim to a certain form of sexism, again, unsurprisingly. All in all, this was as useful and informative as reading a sloppy Wikipedia page without sources.
Read this book online at Google Books.
Details & Where to Buy